Welcome To The Parent's Corner - Check Back Often For The Latest News!
Imporatant Dates:
10/26-10/31 - Wear your Halloween Costume to class
11/25-11/28 - Closed for Thanksgiving
12/14-12-19 - Holiday Performance Week
12/21-1/2 - Closed for Winter Break
4/1-4/5 - Closed for Spring Break
5/31 - Closed for Memorial Day
6/6 - Rehearsal at Gloucester County 4H Fair Grounds @ 10am-3pm
6/7-6/10 - Spring Showcase at Goulcester County 4h Fair Grounds
2021 F2D Spring Showcase
Information Sheet
Recital season is right around the corner! We are so proud of all of the dancers working hard on their dances but there is still SO much to do. In this packet, you will find nearly all of the information you will need for the next month. The ad forms should come back to us by May 22nd. We ask that each family sell at least one business or student spotlight ad to make our program book possible. Please put this information sheet somewhere safe!
Recital Tickets
Tickets for Fit to Dance Studio's Spring Showcase "CELEBRATE" will be on sale Wednesday May 12th @ 5pm! For your convenience all ticket sales are available ONLINE! Please share the link with your family and friends, so that they may purchase tickets too! All tickets are general admission seating in the open-air outdoor pavilion at the Gloucester County 4H Fairgrounds. All spectators over the age of 2 will need a purchased ticket. Dancers DO NOT need a ticket. Please print and bring your ticket to each show to be collected at the entrance gate. Visit the Parents' Corner page of our website for a direct link to the ticket sales. Tickets can also be purchased at: https://buy.tututix.com/FITTODANCESTUDIO
Important for those with multiple shows in the same night: Tickets will be sold per show. If you need to purchase tickets to more than one show in the same night, tickets for the second show will be FREE. Please purchase tickets for the 5:30pm show and email Ms. Kathleen at info@fit2dancstudio.com with your ticket confirmation to reserve the same number of tickets for the same spectators for the 7:00pm show. Additional guests only coming to the 7:00pm show or any change in guests will need to purchase a ticket at full price. ALL tickets will be collected at the 5:30pm show.
Important for those with multiple shows in multiple nights: Tickets will be sold per show. Please purchase tickets for the first show of the week that your child is performing in. Then please email Ms. Kathleen with your confirmation email to info@fit2dancestudio.com. Ms. Kathleen will reply during our business hours (4-8pm Mon-Thurs) with an email with a coupon code good for 50% off for the same number of spectators to attend the sequential shows. Coupon codes are only valid for the same spectators to attend multiple shows. Any additional spectators will need to purchase a full price ticket. Only one coupon code is valid per transaction. Tickets will be collected at the entrance gate each night.
ALL TICKET SALES ARE FINAL AND NON-REFUNDABLE.
Dress Rehearsal
Sunday June 6th - Rehearsal is at Gloucester Count 4H Fairgrounds 10:00am – 3:00pm. Address: 275 NJ-77, Mullica Hill, NJ 08062. Your child should arrive dressed in their recital t-shirt with his/her hair done. Please arrive 10-15 minutes prior to your scheduled rehearsal time. Your child will be directed sit (Quietly) with their class. A few minutes prior to your child's scheduled performance, his/her class will be led to the side stage by an instructor. We will NOT hold a performance for tardy students. So please be punctual. You can take your child home immediately following their rehearsal.
Recital
Recital is at Gloucester County 4H Fairgrounds Monday June 6th – Thursday June 10th. Address: 275 NJ-77, Mullica Hill, NJ 08062. There will be two shows each day at 5:30pm and 7pm. Each show is estimated to last about 30 minutes. The recital schedule can be found on the Parents Corner section of the website.
Recital T-Shirts
To celebrate our 10 years, we are gifting each of our students a special t-shirt. They will be distributed during awards week. Please have your child wear their t-shirt to rehearsal and BRING it to recital for the finale!
FLOWERS, GIFTS, & REFRESHMENTS
Adorable flower bouquets from a local florist and gifts will be available for purchase at all performances on Monday June 7th – Thursday June 10th. Food trucks will be selling snacks, treats, and even dinner for your family to enjoy before or after the shows!
Picture Information
Showstopper Photography did an amazing job taking pictures of all of our students. You will be emailed a link in the next week or two for ordering from Showstopper Photography. You will be able to see your pictures and pick which packages you would like to purchase. The $10.60 deposit paid will be applied to your package. If you do not have your photo card with your access code for your pictures, please contact Showstopper directly by email at support@showstop.co
Awards Week
Monday May 24th- Saturday May 29th - Please be at class on time so that each class can practice their dances before awards. The last 20 minutes of class we will invite the parents into class for a small awards ceremony.
Click here for our 2021 Spring Program Book Ad Forms
Below is our Spring showcase day/time for each class. This is NOT the actual lineup for each show!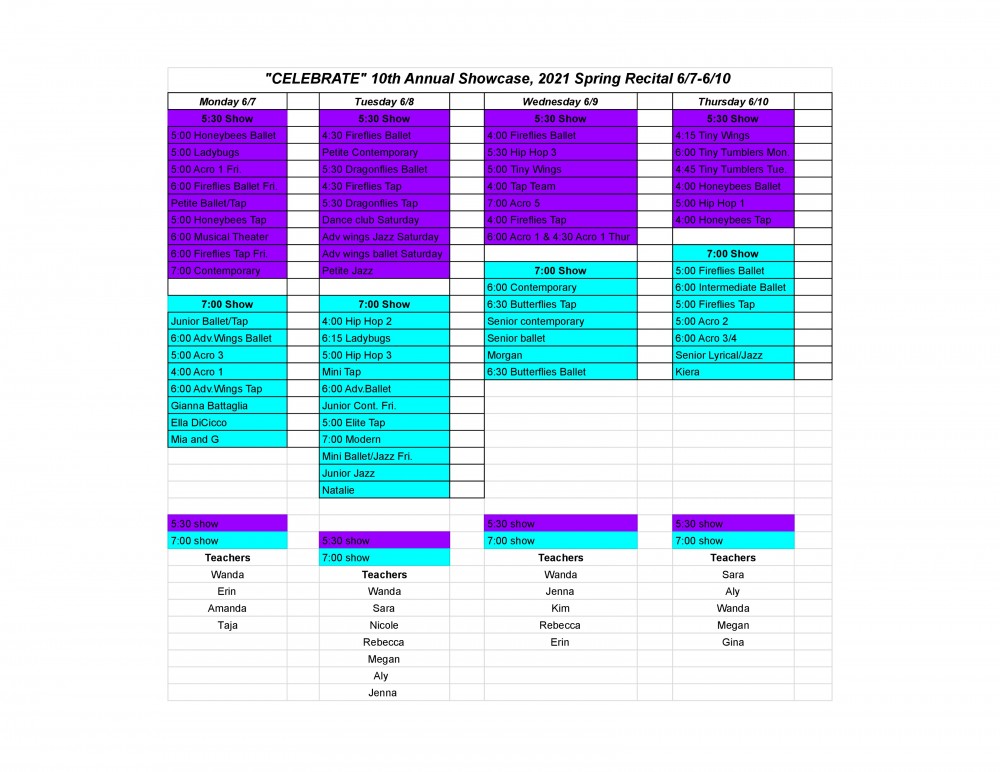 *These are the guidelines we currently have in place at F2D for our fall 2020-2021 season:
Masks are required in the state of NJ for all indoor activities. All students and staff MUST wear masks at all times with the exception of water breaks.

Each week you will be emailed a COVID questionnaire to fill out and submit before your dancer's scheduled class.

A sneeze shield guard was installed at the front desk. All payments, questions, concerns, must be made by email/online or via telephone to limit physical interactions.

Our lobby will remain closed. No parents, guardians, siblings, etc will be allowed to enter the studio.

When you arrive at the studio- parents of children four and under can accompany their child to their classroom and drop them off. Parents of children five and above will drop their child curbside. You are welcome to park your car and wait in the parking lot while your dancer is in class. We especially encourage this if you have a younger child.

Students/Staff will get their temperature taken at the front door prior to entering the building. Anyone with a fever will be turned away.

If your child is feeling ill, has cold like symptoms, has had a fever in the past 14 days, has traveled outside the United States or to high risk area within the US (per the current travel advisory), or has being knowingly exposed to someone who tested positive for Covid-19; they must NOT attend in person classes.

Signs from the CDC are posted throughout the studio that denote six feet of spacing in all commonly used areas and as a reminder of infection control practices, such as regular hand washing, coughing and sneezing etiquette, and proper tissue usage and disposal.

Sanitization stations have been installed at each room. Each student must sanitize their hands before entering the room and before leaving the studio.

We will routinely clean and disinfect all high-touch areas in accordance with DOH and CDC guidelines, including, but not limited to, restrooms, counter tops, handrails, door knobs, barres, benches, chairs, and other common surfaces.

Our teachers and employees will perform the above protocols effectively and in a manner that promotes the safety of the visitors and staff.

In addition the studio will be cleaned professionally. We have installed a hospital grade air purification system that is disinfecting and sanitizing the air continuously.

6ft designations will be marked out in the studio space, including on barres.

Students are encouraged NOT to bring personal items into the studio if possible. If they must bring items they must all fit in one bag. Personal items such as water bottles (clearly marked with the child's name), shoes, etc must be in a ziplock bag within their dance bag. Children are also encouraged to bring an extra mask in a ziplock bag. All students belongings will be kept in a designated spaces.
*For more information on our safety procedures click here
DOWNLOAD THE PARENT INFORMATION SHEET
*Click here to download the parent information sheet. If you would like a paper copy, you may pick one up at the front desk.
THINGS TO REMEMBER FOR CLASS
LET'S GET SOCIAL
Like our Facebook page, follow us on Instagram, subscribe to us on YouTube, and connect with us on Twitter - You'll receive the very latest updates right in your news feed!
TELL US HOW WE'RE DOING
If you have a few minutes, please submit the following survey. All survey responses are anonymous so be honest!